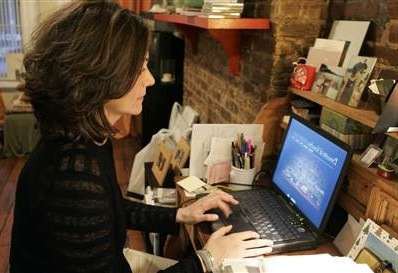 (If I had the gumption to take my picture while working I might look a bit like this--okay, maybe not so pretty!)
Here it is at 8:30 at night and I am still so busy that taking time out to write this post is questionable. And yet, if I do not write it, I will feel guilty about not taking time to cultivate gratitude in my life. So, here I sit typing away and have decided to be grateful that I am busy. I have the opportunity to work--to earn a little extra Christmas money. For this I am grateful, especially after reading headlines this morning that unemployment numbers in the country rose again last month. How hard it must be to want to work, to want to provide for one's family, and yet not have a job to go to--or even sit at one's computer to do at 8:30 p.m. on a Saturday night.
I am truly grateful for opportunities to work.
Scripture of the Day:
2 Nephi 19:6