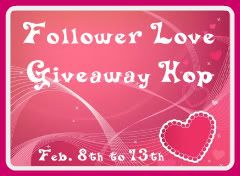 ***This giveaway is now closed!***
Welcome to the Follower Love Giveaway Hop! This fun giveaway promotion runs from Tuesday, February 8th through Sunday, February 13th and is sponsored by
I Am A Reader, Not A Writer.
Each of the 100+ participating blogs is hosting their own giveaway with their own entry requirements. All participating blogs are linked up through a Follower Love linky (see below). After you have entered one giveaway, hop to the next giveaway on the list.
For this giveaway I am offering a free CD-rom version of my book
Family Home Evening Adventures
.
Here is a synopsis:
Scripture study during family home evening is no longer stressful! Family Home Evening Adventures is the perfect way to help your children stay focused on the scriptures while building their testimonies. Filled with 12 fun seasonal activities and lessons, this book will help you effectively plan for the year by setting up a theme for each month. Learn more about the Atonement, feasting upon the word, preparing for baptism, having reverence, and feeling love in the home. Together, your family can have a testimony-building family home evening based on the scriptures without all the stress, boredom, and inattention. This handy aide is sure to help your children to actively learn from and appreciate the scriptures while also increasing their faith.
To win a copy of the CD version of
Family Home Evening Adventures
become a follower and leave me a comment about a fun FHE your family has had.
Good luck!
Scripture of the Day:
D&C 133:52