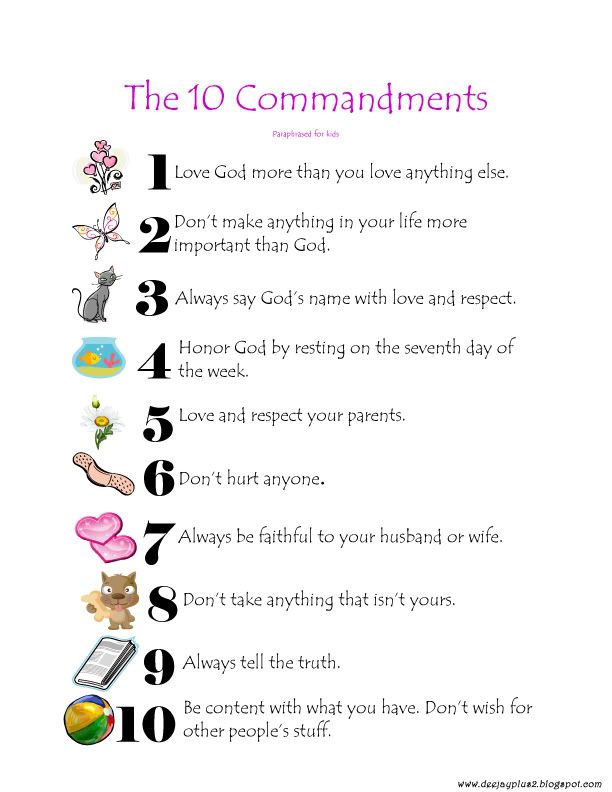 After surfing the web for fun 10 Commandments items to share I have compiled the following list:
1.
Click here
for a pdf of the above sign of the 10 Commandments for kids.
2. A joke to tell: A Sunday school teacher was discussing the Ten Commandments with her five and six-year-olds. After explaining the Commandment to "honor thy father and thy mother," she asked, "Is there a commandment that teaches us how to treat our brothers and sisters?"
Without missing a beat one little boy (the oldest in his family) answered, "Thou shall not kill."
3. The Living Scriptures has a dramatized Old Testament series that includes Moses and his many famous stories. You can learn more about this series here.
4. A list of goofs in the movie The 10 Commandments can be read here. One goof noted is the safety pin that can be seen on baby Moses' diaper while floating in the basket down the river.
5. The Prince of Egypt movie costs only $8.99 on Amazon right now. I don't think my kids have ever seen this movie although it came out when Patch was only a year old. Val Kilmer does the voice of Moses and God in this animated flick.
6. Did you know David O. McKay met Charlton Heston while on the set of The 10 Commandments? You can read about it and see a picture of them together here.

7. Finally, there is a cute craft book offered by Oriental Trading for dirt cheap. So very cute for kids to put together and color! Click here to go to learn more.
Hope you are having fun with this month's theme!
Scripture of the Day: #6 -- Genesis 4:10